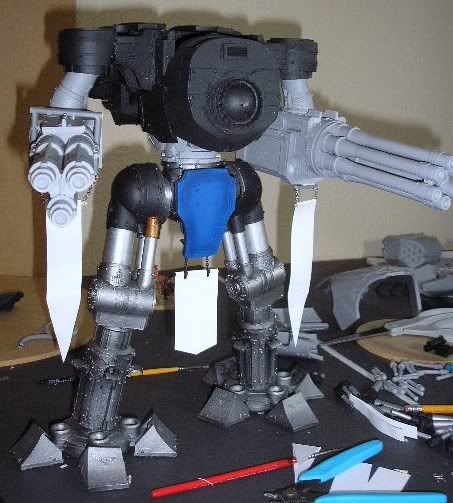 A long time ago, Brian over at
The Inner Geek
started his
his Reaver Titan project
. I managed to convince him to let me in on his project and let me do the banners for that monster. That's his monster above that he's working on.
Well that day has finally come.
Brian emailed me the other day and I've already gotten started on the banners. He sent me his ideas along with some reference material and technical info so now it's my job to put all that together.
Look for more to come on this as I start making progress on my small part. If you haven't looked at his project yet,
check it out
, he's done a great job cataloging his progress for anyone interested in seeing what it's like to build one of these.
My Project Link:
Follow my Reaver Titan banner project
Additional related links:
Making cardstock banners
Painting freehand icons
---
If you've got any questions about something in this post, shoot me a comment and I'll be glad to answer. Make sure to share your hobby tips and thoughts in the comments below!